Ferdinand Foch became supreme commander of Allied forces in World War One. Foch, along with Joseph Joffre and Philippe Pétain became one of the three most prominent French military officers in the war.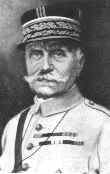 Ferdinand Foch
Ferdinand Foch was born in 1851 in Tarbes in the Hautes-Pyrenees. Foch fought in the Franco-Prussian War of 1870-71 and became an artillery specialist. In 1907, he was appointed as head of the École de Guerre, a position he held until 1911.
When war broke out in August 1914, Foch commanded the French Second Army. This army stopped the German advance on Nancy. As a result of this success, Foch was given the command of the French Ninth Army which fought at the Battle of the Marne – the battle that stopped the German advance on Paris. After this battle, he served in Flanders and became commandant of the French Army Group that fought at the Battle of the Somme.
In 1916, he retired but returned to duty in May 1917, when he was appointed chief-of-staff to Marshal Pétain. To some extent Pétain carried a degree of baggage as he had been replaced by Joffre at Verdun and replaced by Nivelle. Those in a position of power in the Allied military believed that Foch offered a more dynamic leadership potential than Pétain. In April 1918, Foch was appointed supreme generalissimo of the Allied forces on the Western Front – a position that gave him supreme command over all Allied forces on the Western Front. In July 1918, Foch put into operation a successful counter-offensive against the Germans along the Marne River. In August 1918, Foch followed this up with a series of operations which led to the Germans seeking an armistice in November 1918. For this reason, Foch was credited with masterminding the victory over Germany.
Foch then played a prominent part in the lead up to the Treaty of Versailles during which he tried to get Georges Clemenceau to impose far more harsh terms on the Germans so that the Germans could never pose another military threat to Europe again. After the signing of the treaty, Foch retired from public life.
His stature in French military history was assured. Foch is the only French military commander to have been made an honorary field-marshall in the British Army and his standing was ensured by the placing of a statue of him in central London.
Marshal Ferdinand Foch died in 1929.