Group 13 of Fighter Command was formed to protect the north of England and Scotland. Group 13 also provided bases for pilots from Groups 11 and 12 to rest and recuperate before returning to duties in Southern England again. Group 13 had its headquarters at the Blakelaw Estate in Newcastle-upon-Tyne and its commanding officer during the Battle of Britain was Air Vice-Marshal Richard Saul.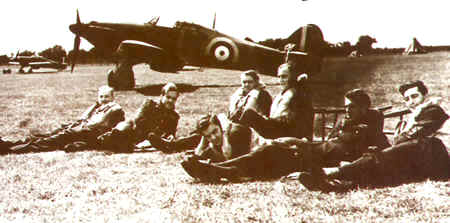 Group 13's sector stations were at Catterick, Usworth, Wick, Dyce and Turnhouse.
Usworth was commanded by Wing Commander Brian Thynne. It was the home to 607 Squadron, which was equipped with Hurricanes, and 72 and 79 Squadrons, which both flew Spitfires. 
Catterick was commanded by Wing Commander G L Carter and it was the base for 219 Squadron that flew Bristol Blenheims and 41 Squadron that flew Spitfires.
Wick was a Coastal Command base and the Fighter sector was commanded by Wing Commander Geoffrey Ambler. 3, 232 and 504 Squadrons were based there and they flew Hurricanes.
Dyce was also a Coastal Command base and the Fighter Section there was commanded by Group captain F Crerar. 603 Squadron was based at Dyce and it flew Spitfires.
Turnhouse was commanded by Wing Commander the Duke of Hamilton and Braden. 253 and 605 Squadrons flew Hurricanes while 602 flew Hurricanes. Night-fighting Boulton-Paul Defiants of 245 Squadron were also based at Turnhouse.
These sector stations were geographically safer from attack and none of them experienced the bombing as was seen at Tangmere and Biggin Hill, for example. For this reason, weary pilots based with Nos. 11 and 12 Groups used these bases to recover before entering the battle once again. Catterick was the furthest south of Group 13's station sectors and was frequently used for this purpose.
Related Posts
  Group 13 of Fighter Command was formed to protect the north of England and Scotland. Group 13 also provided bases for pilots from Groups…

Fighter Command was divided into fighter groups that had a specific part of Britain to guard during the Battle of Britain. However, it was perfectly…

Fighter Command was divided into fighter groups that had a specific part of Britain to guard during the Battle of Britain. However, it was perfectly…