Jeffrey Quill, OBE, AFC, FRAes, is most associated with his work as test pilot of the Supermarine Spitfire(designed by R J Mitchell), prior to the outbreak of World War Two. Quill was the second man to fly the aircraft – Joseph 'Mutt' Summers being the first. Quill subsequently became chief test pilot, and test-flew every mark and variant of the Spitfire – which was to become a first-line fighter throughout the Second World War.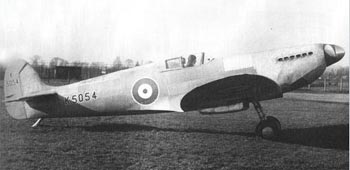 Jeffrey Quill was born on February 1st 1913, and was educated at Lancing College, near Shoreham aerodrome in West Sussex. The sight of aircraft flying in the vicinity of his school inspired him to join the Royal Air Force as soon as he left school. He was accepted into the RAF at the age of eighteen, with the rank of Acting Pilot Officer, and went solo after just over five hours' tuition with the rating of 'exceptional'. He was then posted to No. 17 (Fighter) squadron at Upavon. 
Quill practised aerobatic flying as often as possible, and later wrote:
"Unless aerobatics were practised assiduously to the point where one was familiar with every conceivable combination of speed and altitude of which the aircraft was capable, one was not master of the aeroplane. Therefore a day would come when the aeroplane decided that it was in charge instead of the pilot, and that would be the last day."
He also believed that a pilot should learn to fly in all weathers if he was to gain mastery of an aircraft.
His aptitude for all-weather flying had been proved in 1934–35 during his service with the RAF Meteorological Flight at Duxford. There, a small team of pilots flew to high altitudes in open-cockpit, unheated Armstrong Whitworth Siskin IIIAs, to report on temperature, humidity and cloud formation. The blind-flying instruments were rudimentary, and electrically heated suits had to be worn. After taking command of the Flight, Jeffrey Quill and his team made twice-daily flights, climbing to 18,000 and 25,000 feet, without once missing a scheduled slot, in weather conditions that were often considered 'unflyable'. For this achievement he was awarded the Air Force Cross at the age of 23.
In January 1936 Quill joined Vickers Supermarine as assistant to its chief test pilot, Joseph 'Mutt' Summers. Quill first flew K5054 – the prototype Spitfire – on March 26th 1936. His responsibility was to get K5054 cleared for acceptance by the RAF as being safe for pilots to fly. Much work was needed before the first production Spitfire, the Mk 1, entered RAF service in July 1938.
Following the fall of France in 1940, Quill was determined to rejoin a fighter squadron. Anticipating opposition from his employers at Vickers, who were unwilling to risk losing a valuable test pilot, he argued the necessity of gaining front-line combat experience. Eventually, and with the backing of Air Vice-Marshall Keith Park, he was temporarily released on 5 August 1940 to join 65 (Fighter) Squadron. During the Battle of Britain he shot down a Me-109 and shared in shooting down a He-111 bomber. Keeping in close contact with Joseph Smith (R J Mitchell's successor as the Spitfire's chief designer) he sent reports with suggestions for modifications and improvements, so that instructions could be communicated immediately to the design office.
By the time war was declared, Quill had become chief test pilot at Vickers Supermarine, in charge of the development and production flying of all aircraft types built by the company. Some 52 operational variants (of an eventual production total of more than 22,000 Spitfires) were designed, and Quill and his team test-flew them all. Each new variant brought with it new problems regarding handling or design. A change in fuselage shape affected the way an aircraft flew and Quill had to find out the best way to fly a new Spitfire, and convey the information to the design team as well as to combat pilots. Alex Henshaw, chief test pilot at the Castle Bromwich factory, wrote, "Jeffrey's greatest gift to those technicians with whom he worked was his concise analysis of technical problems and his ability to articulate them in a language they clearly understood. Last but not least was the complete integrity of his test reports."
Quill had a second spell of wartime service flying when in 1943–44 he was commissioned in the Fleet Air Arm, the air branch of the Royal Navy, to help develop better carrier deck-landings on aircraft carriers. The Seafire, the seaborne version of the Spitfire, had suffered massive losses as a result of deck-landing accidents. During five months of service with the Fleet Air Arm, Quill made more than 75 deck landings, and his reports led to significant modifications in the production of Seafires and the training of Navy pilots. He was awarded the OBE in 1943. One of the Royal Navy's senior test pilots, Captain Eric Brown, wrote that Quill "had the analytical mind of a superb test pilot, trained to find answers to any flight problem".
After World War Two, Quill continued with Vickers as chief test pilot, and moved towards the jet age. His test-flying career was brought to an end in June 1947 when flying the prototype Supermarine jet fighter the E10/44 Attacker. Losing consciousness at 40,000 feet, he came to at 10,000 feet, just in time to land safely, but medical checks revealed the heavy toll that sixteen years of flying at high altitude in unpressurised aircraft had taken. He had test-flown almost a hundred different types of aircraft and clocked up more than 5000 flying hours.
Resigning himself to a desk job, Quill remained with Vickers-Armstrongs as Technical Sales and Liaison Manager, later becoming head of the military aircraft office. Following the formation of BAC (British Aircraft Corporation) he was involved in the TSR-2 supersonic bomber project until its cancellation by the Labour Government in 1965. In 1966 he became sales director of the Anglo-French company developing the Jaguar supersonic fighter; later he was marketing director of Panavia, the Anglo–German–Italian consortium developing the Tornado swing-wing multi-role combat fighter. He retired in 1978, and was made President of the Spitfire Society, and Fellow of the Royal Aeronautical Society.
Quill wrote two books about the Spitfire during the 1980s: Spitfire: a Test Pilot's Story (1983) and (with Sebastian Cox) Birth of a Legend: the Spitfire (1986).
He flew Spitfires regularly at air shows, and his last flight in a Spitfire was in June 1966 when he performed aerobatics in the Mk V AB910 for the purposes of a French documentary film. A year earlier he had flown the same aircraft from Wisley to RAF Coltishall, accompanied by a Hawker Hunter, to hand over the aeroplane to the RAF Historic Flight (later to become the Battle of Britain Memorial Flight, based at Coningsby).
Jeffrey Quill died on February 20th 1996.
July 2012
Related Posts
  Jeffrey Quill, OBE, AFC, FRAes, is most associated with his work as test pilot of the Supermarine Spitfire (designed by R J Mitchell), prior…