Captain Joseph 'Mutt' Summers made the first ever flight in the aircraft that was to become the Supermarine Spitfire. Summers was the chief test pilot for Vickers and it is said that when he landed on his first flight of K5054, the first Spitfire prototype, Summers said "Don't touch a single thing".
Summers was born on March 10th1906. In 1921 Summers was awarded a short service commission in the Royal Air Force. The earliest aircraft he learned to fly were the Avro 504's (that had played a major part in the success of the Royal Flying Corps during World War One) and the Sopwith Snipe. Both aircraft were used as trainers post-World War One. Summers received his wings in 1924.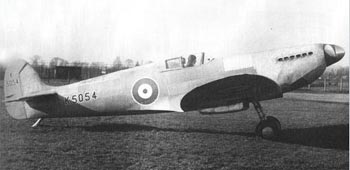 Over the next few years Summers spent a great deal of time testing aircraft such as the Bristol Bulldog and Hawker Hornbill while he was attached the Royal Aircraft Establishment.
In June 1929, Summers left the RAF and joined Vickers Aviation Ltd as their chief test pilot. In mid-1930, he left Vickers and joined the Supermarine Aviation Works as their chief test pilots. It was as the company's chief test pilot that Summers flew the first Spitfire in March 1936 and it with this aircraft that he is most associated. The new aircraft was coded the F.37/34 fighter but by the time it was flown by Summers it had become the K5054.
K5054 took off on its maiden flight on March 5th 1936 from Eastleigh Aerodrome in Hampshire. The flight lasted just eight minutes. Summers flew the new aircraft four times before handing testing over to Jeffrey Quill. He was the first of the test pilots to fly K5054 with its undercarriage retracted.
However, Summers flew other aircraft that were to play their part in World War Two. Summers flew the prototypes Vickers Wellesley and Wellington bombers in June 1935 and June 1936 respectively.
During the Battle of Britain, Summers was attached to No 11 Group in a non-combatant role. His job was to test fighter aircraft used by No 11 Group and during the Battle of Britain Summers visited all airfields attached to No 11 Group. His status was such that if he said that an aircraft was not air worthy, it simply did not fly until specific maintenance was done to it. Pilots had to be given another aircraft until work had been completed on theirs. Testing aircraft was no easy option. On one occasion the ace 'Ginger' Lacey complained that the engine on his Hurricane was not working correctly and that he believed that the lack of acceleration was due to a faulty propeller. After Lacey had landed his Hurricane, Summers took it up and tried to accelerate. The propeller sheared off. Summers was not wearing a parachute and had to glide the stricken aircraft down to the ground.
Summers played his part in the legendary Dambuster Raid. He flew the Wellington bomber that dropped the 'bouncing bomb' in test prior to the actual raid. 
Summers continued as Vicker's chief test pilot after World War Two.
The nickname 'Mutt' came as a result of Summers relieving himself immediately before a flight – frequently on the rear wheel of the aircraft he was about to fly – and his friends ribbed him that this was like a dog marking its territory. As 'Mutt' was a common name for a dog, the nickname stuck. However, Summers did this for a reason – he believed that a crash on a full bladder could be fatal.
On January 9th 1946, 'Mutt' Summers was awarded a CBE for his services to aviation.
 Captain Joseph 'Mutt' Summers died on March 16th 1954. Such was his fame that a ceremony was held in his memory at Westminster Abbey.
Related Posts
Captain Joseph 'Mutt' Summers made the first ever flight in the aircraft that was to become the Supermarine Spitfire. Summers was the chief test pilot…