The Guinea Pig Club  is the name given to the pilots injured in the Battle of Britain who were treated by Sir Archibald McIndoe at the burns unit of Queen Victoria's Hospital in East Grinstead, West Sussex. The Guinea Pigs were give this name simply because McIndoe had no choice but to try out his ideas on the men as he had no book to refer to or guide him.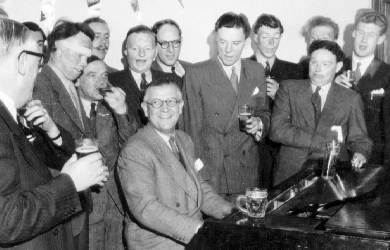 Sir Archibald McIndoe with Guinea Club members
The original intake of recovering pilots decided to set up a club and only men who had been patients at the burns unit could join. This decision was taken in July 1941. They chose the title of the club – a sign of the humour the men had as they knew full-well that reconstructive plastic surgery was in its infancy and that they were quite literally guinea pigs for the burns unit. This type of humour even worked its way into the club's committee selections.
Archibald McIndoe was the club's first president; the first secretary had had his fingers seriously burned so any notes of club meetings had to be short and were, therefore, easy to read. The first treasurer was a pilot with very badly burned legs – so he could not run away with the club's funds!
The committee decided on three levels of membership:
1) The Guinea Pigs – men who had been burned in a plane crash and had had plastic     surgery at Queen Victoria's Hospital
2) Honorary Members – scientists, doctors and surgeons who had worked at the burns unit at the Queen Victoria's Hospital.
3) Friends of the Guinea Pig Club – someone who has contributed to the club either financially or in other ways.
The club was meant to have been disbanded when the war ended but it did not. As the war progressed, the type of patient treated at the burns unit changed from fighter pilots to bomber crews. In the final year of the war, 80% of those treated at the burns unit were from bomber crews.
By the end of the war, the total number of Guinea Pigs stood at 649; 57% were British; 27% were Canadian; 8% were New Zealanders; 8% were Australian. Surviving members of the club try to meet each year and since the death of Sir Archibald McIndoe in 1960, the Duke of Edinburgh has been the club's president.
Related Posts
The Guinea Pig Club  is the name given to the pilots injured in the Battle of Britain who were treated by Sir Archibald McIndoe at…