Georges Clemenceau was the senior French representative at the Versailles settlement. Georges Clemenceau wanted the terms of Versailles to smash Germany, whereas David Lloyd George of Britain privately wanted a non-emotive approach to Germany's punishment at Versailles. Georges Clemenceau was completely in tune with what the French wanted out of the peace treaty – the destruction of Germany – not for nothing was his nickname 'The Tiger'.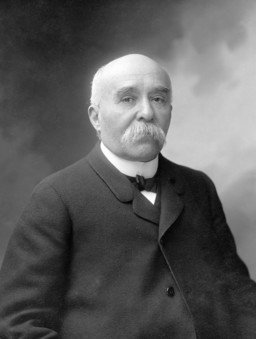 Georges Clemenceau was born in 1841. He had a good education and studied medicine. He settled in Montmatre where he was appointed the town's mayor in 1870. From 1876 to 1893 he was a member of the Chamber of Deputies and in 1902 he became senator for Var. He held this post until 1920.
Georges Clemenceau was appointed Minister of Home Affairs in March 1906. Just seven months later he was appointed French Prime Minister. In a country where the life-span of a government might be very short, Georges Clemenceau's government lasted for two and three-quarter years, the second longest in the history of the Third Republic.
Between 1914 and 1917, Clemenceau was an outspoken critic of the military incompetence that seemed to characterise the French military effort in World War One. From November 1917 on, he was again appointed Prime Minister and he led the French delegation at the peace talks held at the Versailles Palace. He realised that the tone in France was for no mercy to be shown to the Germans. He called for Germany to be smashed so that she could never again embark on a war. In France he was seen as a realist as the country almost certainly in line for a future attack by the Germans would be France. At Versailles, he made plain his scepticism for Woodrow Wilson's beliefs in the future of Europe.
The Versailles Peace Treaty was greeted with some disapproval in France. The influence of Lloyd George had almost certainly watered down the severity that the treaty could have had on Germany. Georges Clemenceau had wanted a lot more. By January 1920, his political star had eclipsed and the French public held him responsible for the perceived leniency of the Versailles Settlement.
By 1920, Georges Clemenceau was 79 years of age. In his retirement he constantly preached spoke and wrote against the dangers of a resurgent Germany. He became very disillusioned with European diplomacy which became most apparent in his memoirs "The Grandeur and Misery". Georges Clemenceau even predicted that 1940 would be the year that France was in its gravest danger from Germany.
Georges Clemenceau died in 1929.